Located right on the front door of the wonderful playground of Phang Nga Bay, TreeHouse Villas provides a perfect launching point for guests looking to venture out and discover the bay's hidden gems. Along with planned day/half-day trips out into Phang Nga, the resort offers a range of activities for those looking to explore the local area and the rustic island of Koh Yao Noi. With wide open rice patty fields and a small village, guests can explore the island with one of the guided tours of the island or at their own pace by bicycle.

The resort also provides entertainment and activities right on the property, with such activities like Thai Cooking Classes, Batik Painting Lessons, Evening Entertainment Shows, and a variety of sports like Volleyball/Badminton/table tennis.
*All excursion schedules may be changed depending on weather conditions and tides, for the safety and enjoyment of our guests.
Enjoy a wide range of activities to do right at the resort. Free activities such as use of the beach sporting equipment of collection of beach toys for children. Paid classes to learn new skills to bring back home and sporting equipment rentals for items such as Kayaks, mountain bikes and paddle boards to further explore the stunning national park around the resort.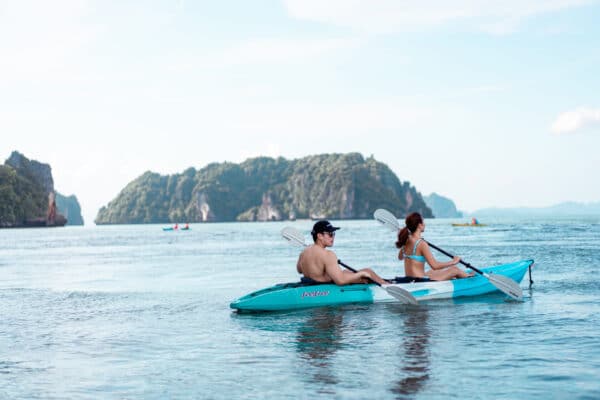 Rent one of the kayaks off the beach rack and explore the immediate area around the resort. With calm seas we recommend paddling out to the floating pontoon for an iconic ocean photoshoot or explore the cliffside at the northern end of the bay. At the right tide there is even a small tunnel you can pass through.
Join one of our chefs in picking our fresh ingredients from the gardens at the resort and learn how to prepare and cook your favourite Thai dishes and desserts. You will be guided through ever step, get explanations on how to balance the dish with different ingrediency and show you how to assemble and present the world famous Thai culinary style to impress all your friends back home.

Take a bit Thai knowledge home with you.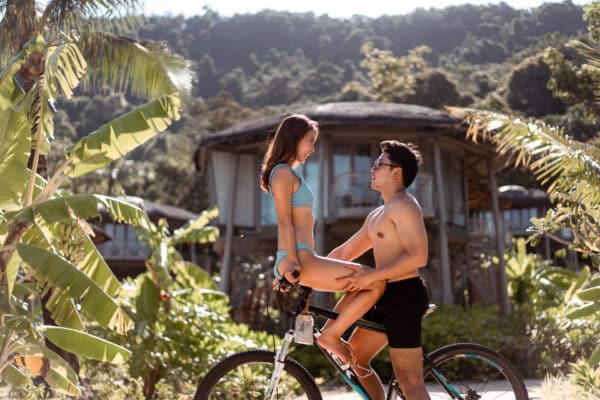 The main village on Koh Yao Noi Island is 7km away. The trip is through the national park jungle – on a challenging dirt road appropriate for an off-road vehicle. The journey can take around 2 hours depending on ability and level of fitness. Paradise KohYao offers high quality mountain bikes for guests to take out and explore the adventurous 'back road' through the national reserve parklands and into the interior of the island of Koh Yao Noi.

Alternatively Join our Eco-Bike Tour to get a guide bike tour of our local village, rice fields and plantations on Koh Yao using the local roads and back trails on the island. It is one of the best ways to explore the wonderful nature of Koh Yao Noi.
Traditional Batik Painting/Tie dye Class
Learn from the steady guiding hand of an expert of this ancient painting technique over a century old. Batik painting styles although made world famous in Bali have roots in India as this practice moved. Perfect for one of those slower paced days in Paradise and at the end provides a wonderful souvenir to take home.
Alternatively you can choose the fashionable tie dye paint class to make your own unique piece of clothing perfect for the beach!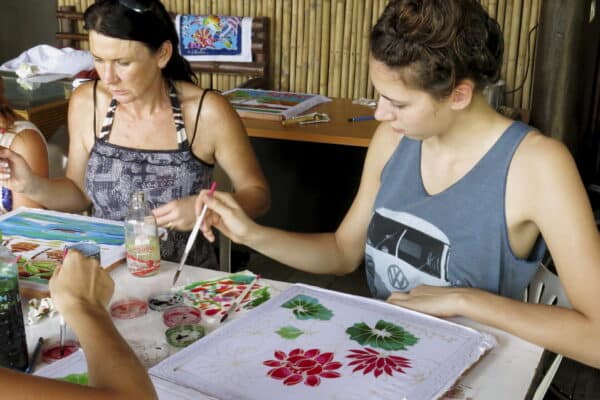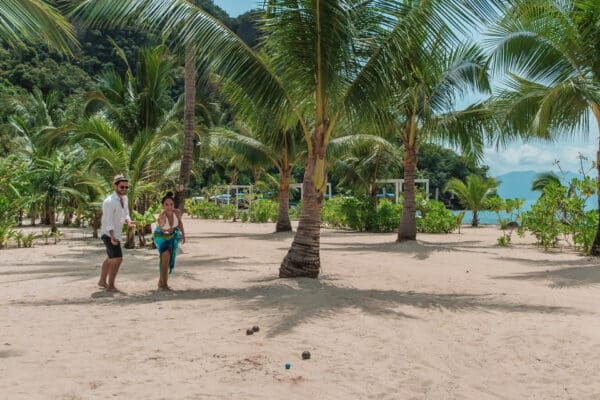 Snorkel gear, beach games, and toys
Feel free to use any of the equipment at the activities center to use during your stay such as badminton, soccer, volleyballs, petanque sets, paddle ball and sandcastle toys during your stay. Just be sure to return them after you are done.
Koh Yao Noi and the wider Phang Nga Bay is famous for its stunning limestone cliffs and stunning natural beauty. With this wonderland at the doorstep of the resort, you could spend weeks exploring and still miss some of its best kept secrets. Our group of local experts will guide into the beautiful world of Phang Nga Bay with its hidden lagoons (hongs) and secret beaches and find the perfect activity for you during your stay in Paradise.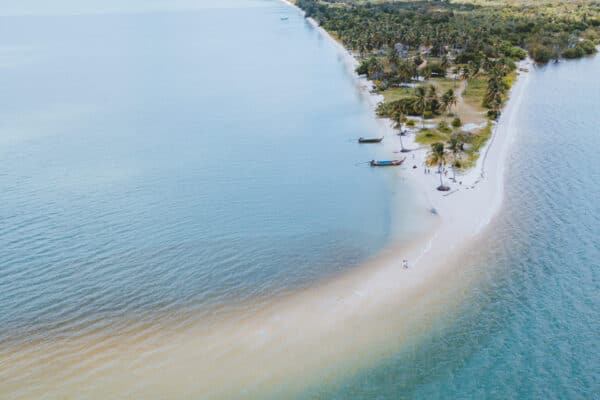 Visit the most beautiful islands around Koh Yao Noi & Krabi during this unforgettable day trip on a long-tail boat, or the resort's own catamaran. Enjoy a day of sightseeing, swimming, and snorkeling in wonderful Phang Nga bay with its impressive limestone rocks & hongs ("hong" means room in Thai & describes the internal lagoons).

Departing from Paradise Koh Yao's pier, the trip starts with the 'hong' inside Koh Hong, which is surrounded by limestone cliffs & affords you the opportunity to snorkel with tropical fish. A picnic lunch is served at 'Paradise beach', on a small, idyllic, hidden bay of Lading island. The final stop is the beautiful island Koh Phak Bia with its white sandy cape.
PHANG NGA BAY KAYAK TRIP
If you love adventure out in nature this is the right excursion for you. Take a trip through the beautiful Phang Nga Bay and explore all its natural wonders by kayak. You will be guided through the many sea caves that the bay has to offer, past spectacular rock formations, and on to explore quiet hidden lagoons where you often spot monkeys and other wildlife. Along the way we stop at one of the amazing beaches to relax, swim, and enjoy lunch.
Before or after you have seen the caves and lagoons, depending on tides, you will also be taken sightseeing by long-tail boat around the world-famous James Bond Island.
TALEN BAY (THA LANE) KAYAK TRIP
Take a short trip across the bay to Krabi by long-tail boat, where you will be dropped off with your guide to explore sights and sounds of Talen Bay and the magnificent limestone cliffs the area has to offer. You will be guided through the ever-changing mangrove forest where you are sure to encounter local monkeys and birdlife, up-close and personal. Stopping for lunch along the way, is always interesting with all the hungry monkeys keeping a close eye on you.
After lunch we will continue through the cliffs and mangroves, until you meet up with the long-tail boat and head off to one of Phang Nga's beautiful islands for swimming and snorkeling in the clear, turquoise water, before heading back to the resort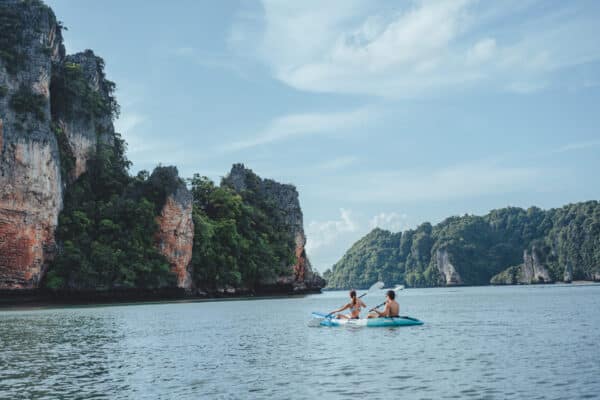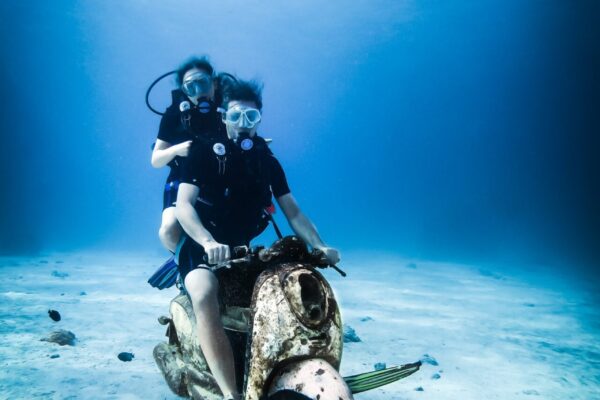 There is a Dive Base on Koh Yao Noi with professional dive masters that have more than twenty years diving experience around Phang Nga Bay. Paradise KohYao staff will be happy to arrange a day trip for you to see the incredible underwater world of Phang Nga Bay. The dive boat will pick you up at the resort pier and return you at the end of the day after your diving. Highly recommended! For those who want to see what lies under world famous Phang Nga Bay. Whether you are just starting or a dive master, our local dive masters can help you find the right dive or course for you.
Please note: Best conditions to dive are during November through to March as visibility drops during the rainy season.
Arrange an unforgettable night-fishing trip (or day trip) with the local fishermen on their longtail boat with our staff. Everyone is always amazed at what the locals can catch using only a handline (with one wrap of the line around a big toe). Watch how they catch fish, crab, prawns and squid, and try your hand at it, yourself. Our chefs are also happy to cook your catch of the day if you wish to eat it. The locals of Koh Yao Noi have an uncanny ability to find where the fish are biting.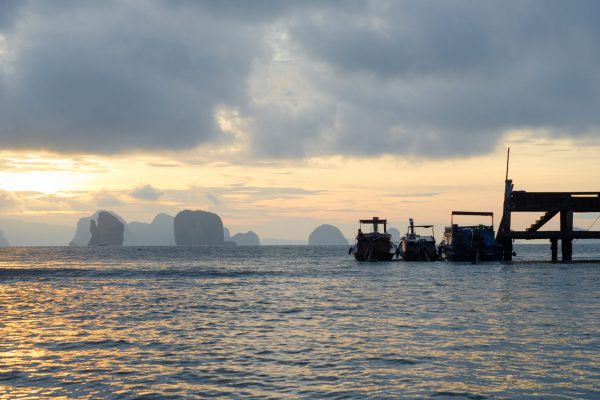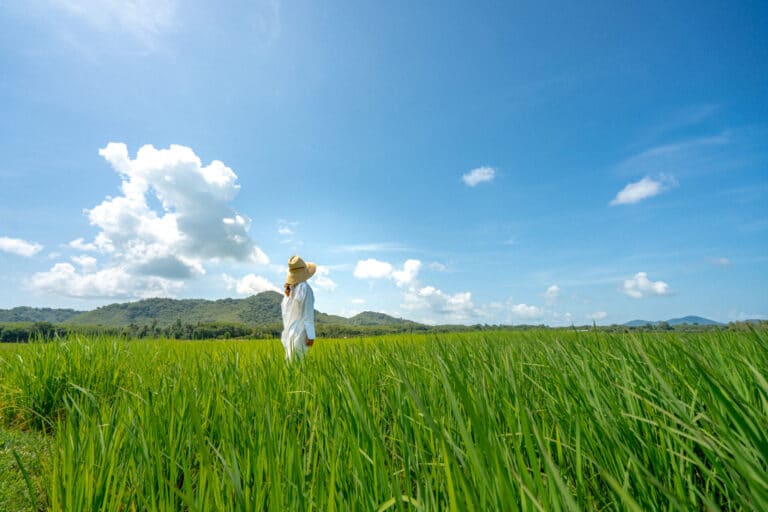 We are honor to be a part of Koh Yao's small community and love to share what makes the island great. Join us on the guide tour of the island. Exploring the best spots on the island, such as the rice field café, floating lobster farm, and Laem Had Beach, and get to know a little more what life is like on the Little Long Island in Phang Nga Bay.
Similar to the village tour the Eco Bike Tour explores our local island community on a more intimate level through the backroads and trails on the island. Bike through some iconic backdrops such as lush tropical jungle trails, rice fields and rubber tree plantations.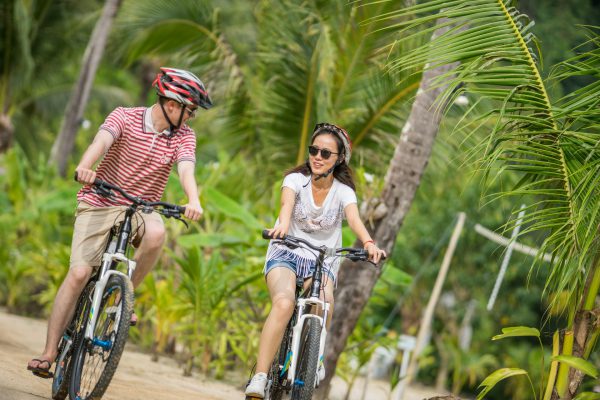 Our little corning of Koh Yao Noi is surrounded by protected national park. One of the significant highlights is the Grand Father Tree that sits at the far north of the island. A short trek through the lush tropical jungle but a stunning sight to see an ancient tree over 100 years old towering through the jungle canopy. It would take more than a dozen people linked hand by hand to circle this colossal tree's base.